FUELING SUCCESS THROUGH ACCESS TO TRAINING AND EDUCATION
Established in 2017, the Public Safety Initiative has forged forward with the mission of providing evidence-based academic quality training and non-academic credit educational services to law enforcement and public safety agencies.
Our goal behind this mission is to improve the quality of life for residents and their communities, both here and abroad, through collaborative governance, public service innovation, community engagement and research.
We believe that with an absence of a centralized public safety university-affiliated educational organization in Colorado, agencies in Colorado and across the nation are left searching for options that both fit within their budget and satisfy the need for continuing training and education.
How We Go About Our Mission
Today's public safety personnel face a wide variety of challenges including a growing mental health crisis, international terrorism, ever-evolving technologies, just to name a few. The need for expanded training is critical.
The Public Safety Initiative provides professional development training, education, and research and evaluation services to law enforcement officers and other public safety professionals, including those in probation, parole, and corrections, as well as legal professionals, including public defenders and district attorney offices, school personnel, and community members.
Areas of focus include leadership development, civil liability, wellness, cybercrime, corrections, safe schools, safe neighborhoods, church safety/security, traffic accident investigation, human trafficking, and community policing and practices.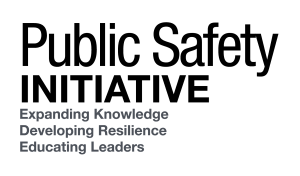 Public Safety Initiative Board of Directors